30 Stunningly Beautiful Sunsets from Around the World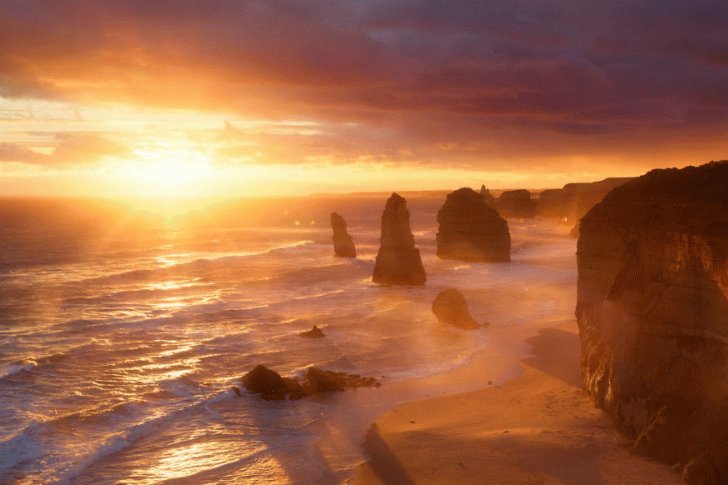 image source: creativeboom.com
Can you imagine anything more stunning than the burning sun that goes down on the horizon? Inner peace, calmness, and relaxation, these feelings immediately overwhelm us as we are looking at a sunset. So, enjoy with 30 most stunningly beautiful sunsets from around the world that we collected for you.
San Francisco, US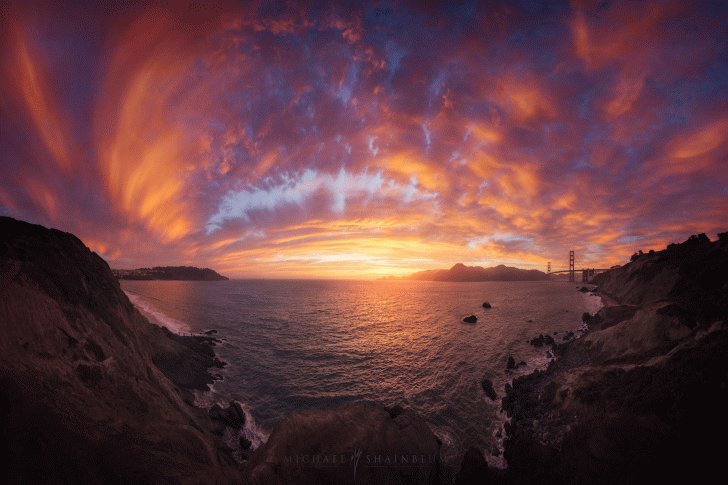 Photo by Michael Shainblum | shainblumphoto.com
Mountains, skyscrapers, and beaches make San Francisco a perfect place to live. But one of the locations with stunningly beautiful sights, when the sun goes down, is in from Golden Gate Bridge. Evening comes, and breath-taking beauty takes place in that marvelous place.
Ölfusa River, Iceland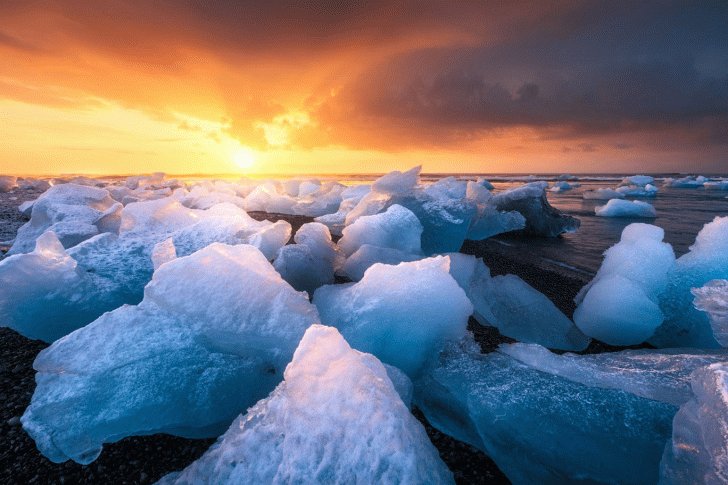 Photo by Julien Grondin | standard.co.uk
Iceland is known for its "Golden Hour" – time before sunrise and sunset. This country surrounded by the ocean has no tall buildings that block sights, also has fluffy clouds and long-time sunsets. For these reasons, Iceland stands out as one of the stunning places on our beautiful planet.
Paris, France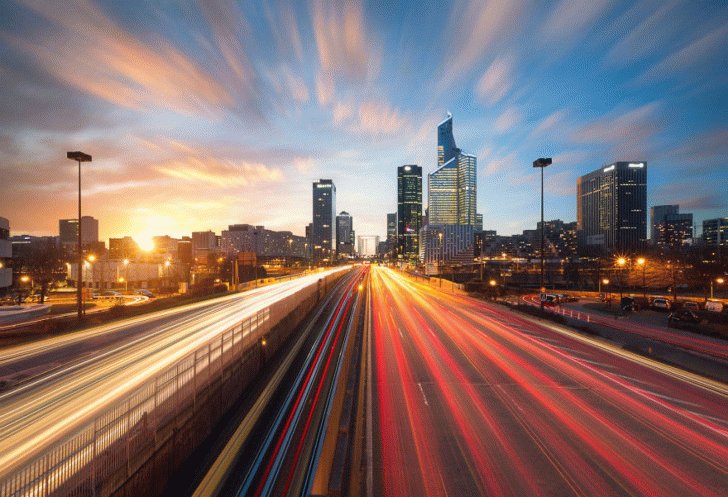 Photo by Julien Grondin | creativeboom.com
City of love and romance, the most beautiful capitals in Europe and probably in the world too. City where you can enjoy at any peace of a day. But when evening falls, you are not going to miss an unforgettable moment when the sun goes down to hide in the streets of Paris.
Provence, France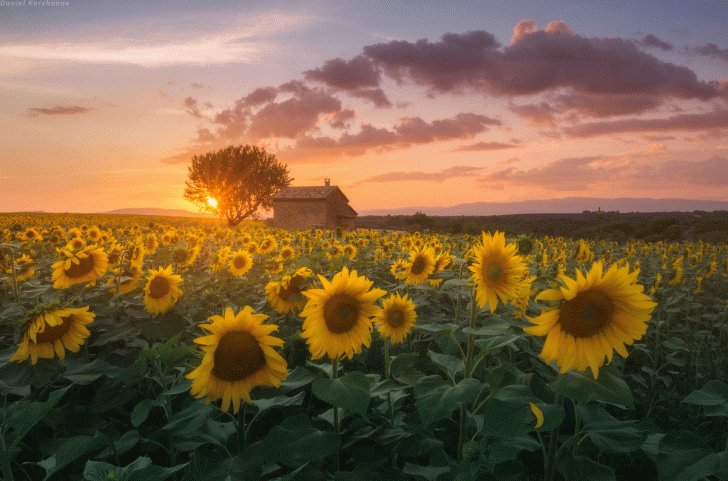 Photo by Daniel Kordan | Pinterest
The Provence region, in southeastern France, stands out with its rich river valleys, mountains, gorges, sunflowers, and stunning landscapes. Probably you have heard about "A Year in Provence" book by Peter Mayle, where he praises it as a perfect place for vacations. Sunsets from small hilltop villages are thrilling.
Monument Valley, US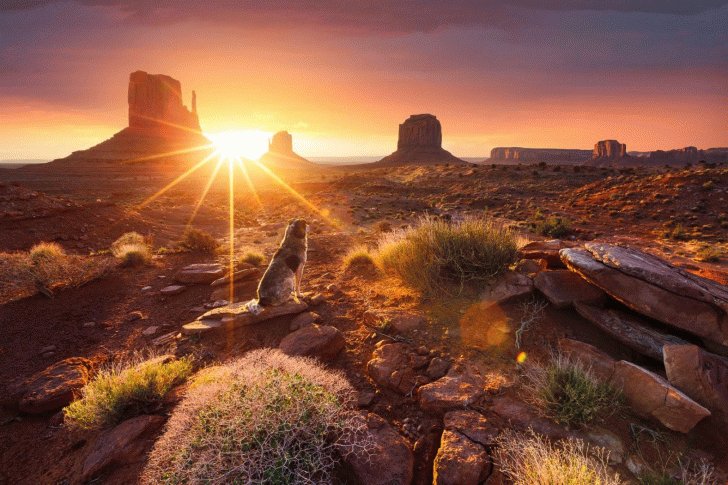 Photo by Julien Grondin | creativeboom.com
Being a symbol of the Wild West, Monument Valley attracts visitors with its cliffs, mesas, and buttes. As the sun goes up to the top, it lights up the whole valley, but the sunset is more stunning to watch. Mittens tower, the nickname of Sandstone buttes, is probably the most beautiful place for watching to setting sun.
Port Waikato, New Zealand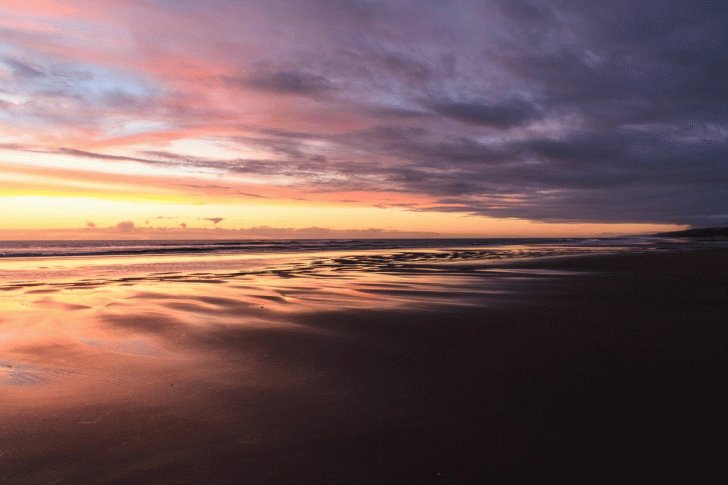 Photo by Petr Vysohlíd | unsplash.com
If you are unfamiliar with New Zealand, then meet the Waikato River, the longest one in the country. Starting its journey from the center of Lake Taupo, the river flows 425 km and joins the sea at Port Waikato, the place which we see in this stunningly beautiful sunset photo.
The Pilbara Region, Australia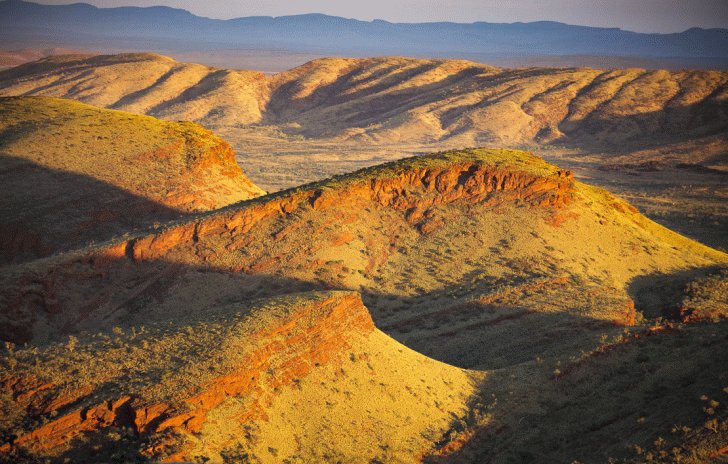 Photo by David Noton | Pinterest
Two times bigger than the UK, the Pilbara region is known for its ancient landscapes to be 4 billion years old, as it was said. Tourists and photographers from around the world have witnessed an eye-catching sight of sunset in this beautiful place.
The Maldives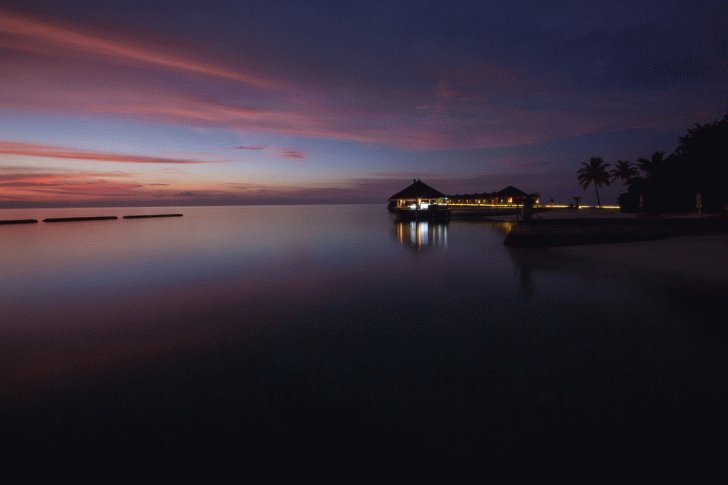 Photo by Sebastian Pena | unsplash.com
Consisting of nearly 1 200 tiny sandbanks and islands, we can call the Maldives a little paradise in the Indian Ocean. This beauty brings millions of tourists each year, so tourism is the prime source of the economy. Burning sunrays reflected by the ocean give the Maldives the right place in our list of 30 stunningly beautiful sunsets from around the world.
Stonehenge, UK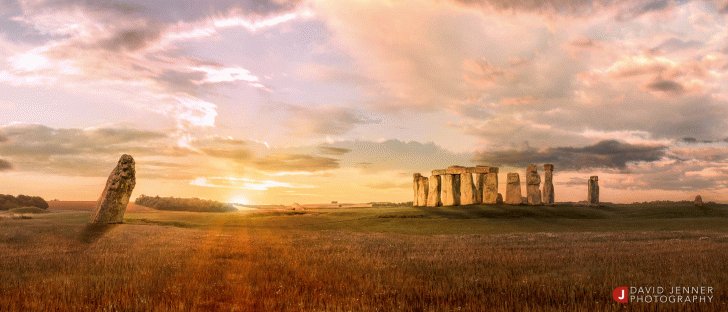 Photo by David Jenner | davidjenner.co.uk
As the most prehistoric monument, Stonehenge is on the World Heritage List. We have no exact knowledge of who built it and how. But besides history, this ancient landscape is stunningly beautiful when visited during sunset.
Volcano Pichincha, Ecuador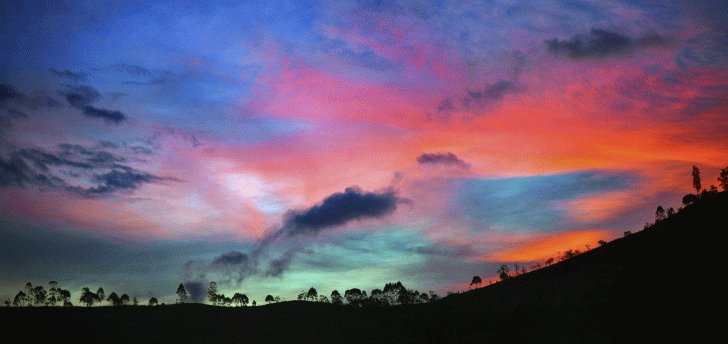 Photo by Jaime Serrano | unsplash.com
Ecuador is the most biodiverse country, known for various living species, national parks, and paradise-like Galapagos Islands. But to see the best stunningly beautiful sunsets, you definitely should visit Pichincha volcano. There are few sights other than this one to watch how the sun hides behind a sleeping volcano.
Italian Dolomites, Italy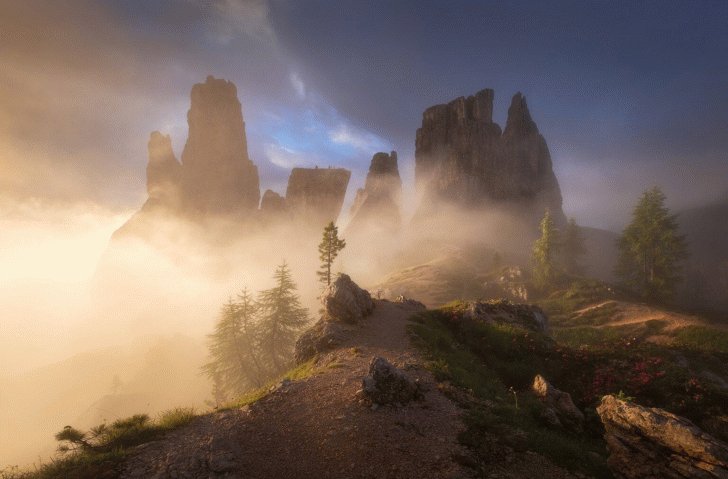 Photo by Erin Babnik | popphoto.com
The Dolomites consist of unique geological features, thus making this mountainous region fascinating. It is a perfect place for skiing, climbing, cycling, and just enjoying stunning sunset sights.
Athens, Greece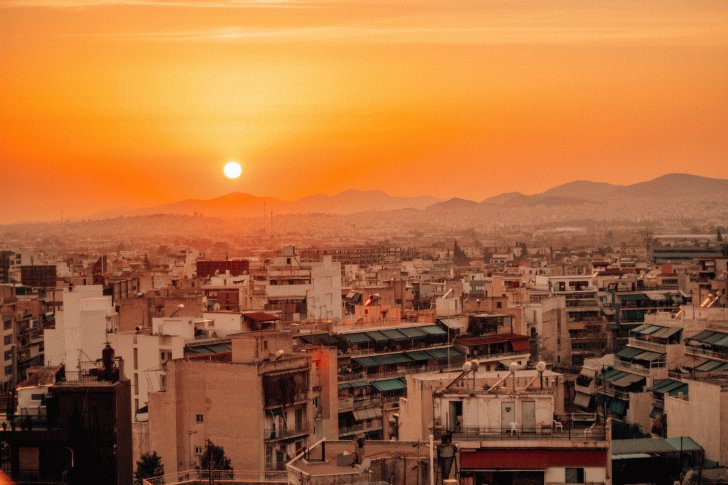 Photo by Anastasia Sklyar | unsplash.com
In one of the oldest cities in Europe, Athens, you can find several places worth looking to sunset. Locals particularly cherish Pnyka Hill, where philosophers used to gather. After a long and hard day, you are going to find inner peace in this place.
Koh Mak, Thailand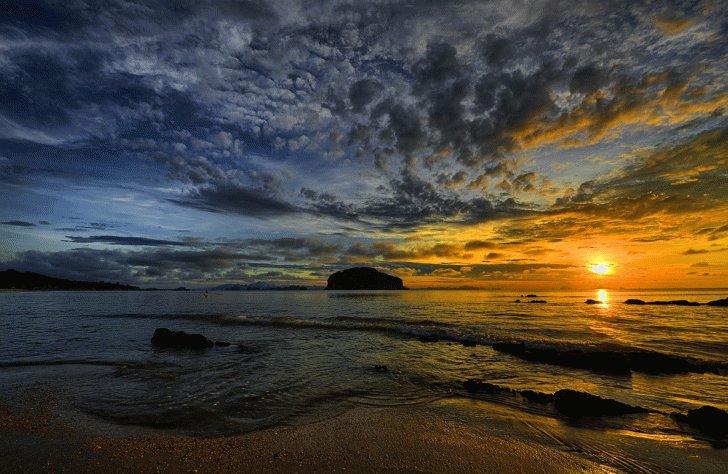 Photo by Cris Burkard | unsplash.com
Koh Mak is in eastern Thailand and is a far distance from urban noise and chaos. A crystal-clear ocean, golden beach, and blue sky will make you feel relaxed, and when the sun goes down, the red-colored sky is stunningly beautiful to watch.
San Diego, US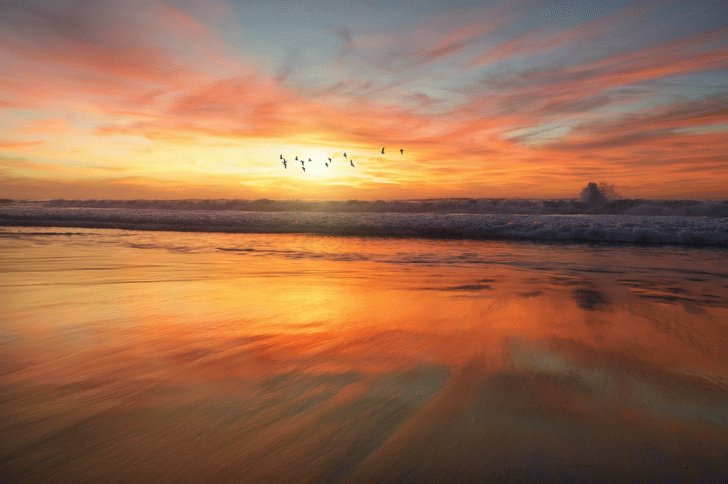 Photo by Frank McKenna | unsplash.com
Can you imagine anything better than a sinking sun in the Pacific Ocean? One of the stunning sunsets is on San Diego beaches. An inspiring look brings you calmness and peace, making you feel closer to mother nature.
Eastern Sierra, US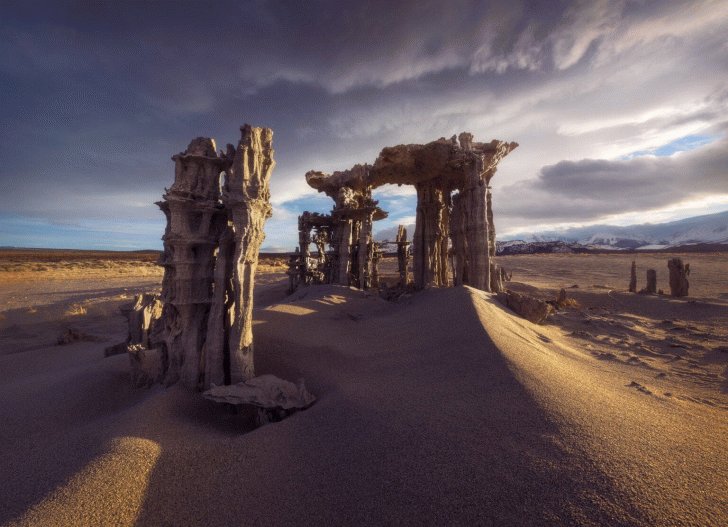 Photo by Erin Babnik | popphoto.com
Separated from the inhabited California state, Eastern Sierra stretched from Lone Pine to Nevada state. It is one of the most loving places for photographers because of its natural diversity and stunningly beautiful sunsets.
Lovina, Indonesia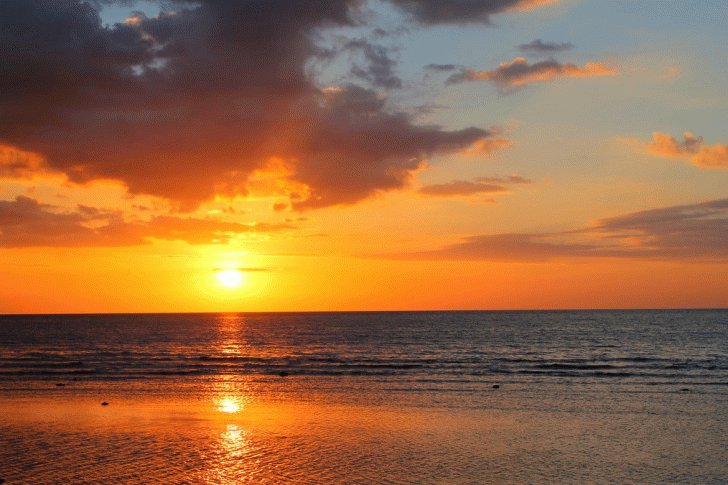 Photo by Melissa Cassar | unsplash.com
You probably heard about the Indonesian province Bali, known for attractive places as Besakih Temple, rice terraces, and beaches, called paradise for surfers. One more beautiful place in this region is Lovina beach, located on the north side and famous for bottle-noised dolphins. Here sunsets are different, stunning, and relaxing.
Semarang City, Indonesia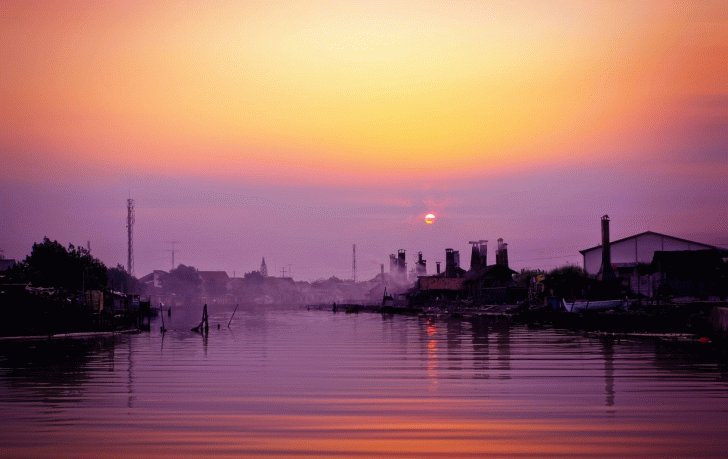 Photo by Arwan Sutanto | unsplash.com
Again, Indonesia, but now Central Java province, and capital city Semarang. Besides being one of the largest cities, it is known for its historical buildings, dishes, and beautiful wild places. An eye-catching, breath-taking, and relaxing nature captures you, especially during the evening when the burning sun is hiding among red-colored clouds.
New York, US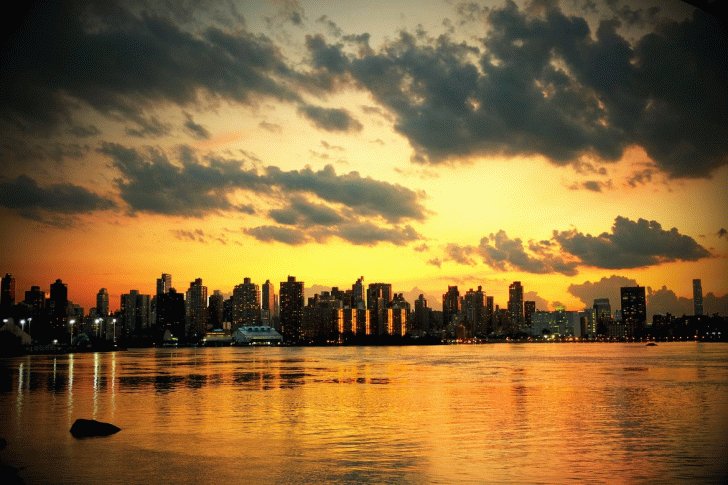 Photo by Peggy Pardo | unsplash.com
Yes, believe it or not, even New York City might have stunningly beautiful sunsets. But you need to pick up the right place to watch. Some may disagree, but Hamilton Park proved to be the best place for that. Why? As shown in the image, you can look at the whole city consisting of mountain-like tall buildings, so-called "concrete jungles".
Bellingham, US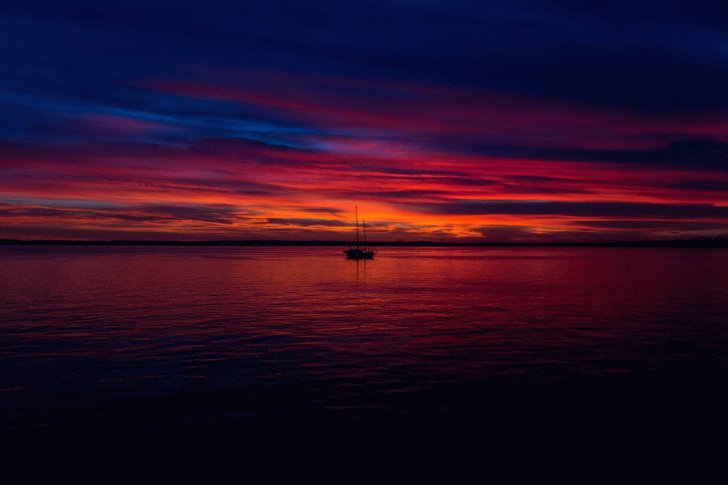 Photo by Patrick Fore | unsplash.com
Moving from New York to the north, we will visit Bellingham at the border of Canada. Larrabee State Park, Oyster Dome, Clark's Point, and Bellingham Bay are several stunningly beautiful sunset places. Rich with parks, mountains, and abundant nature, this region will impress you.
Hsinchu City, Taiwan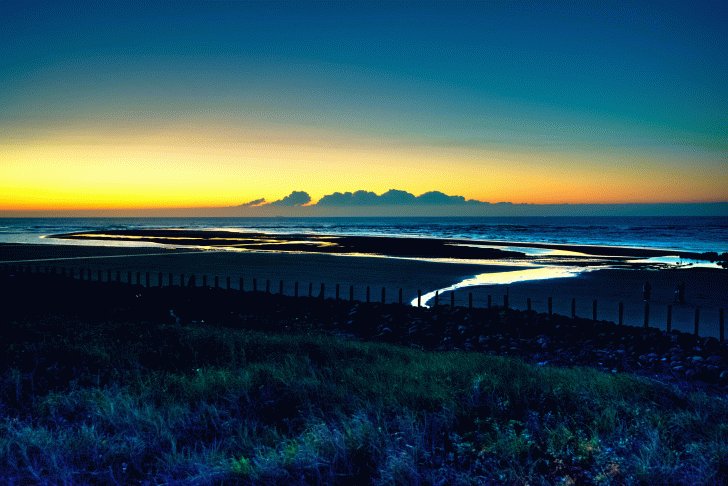 Photo by Max Chen | unsplash.com
Probably this name will give you nothing until you learn that it is famous for its Science-based Industrial Park. But besides this, the city has Bamboo Lake, the place where you can relax, and Jincheng Lake, formerly known as Devil's Lake. The name itself may not sound relaxing, but nothing demonic is there besides of beautiful sunsets.
Luangwa National Park, Zambia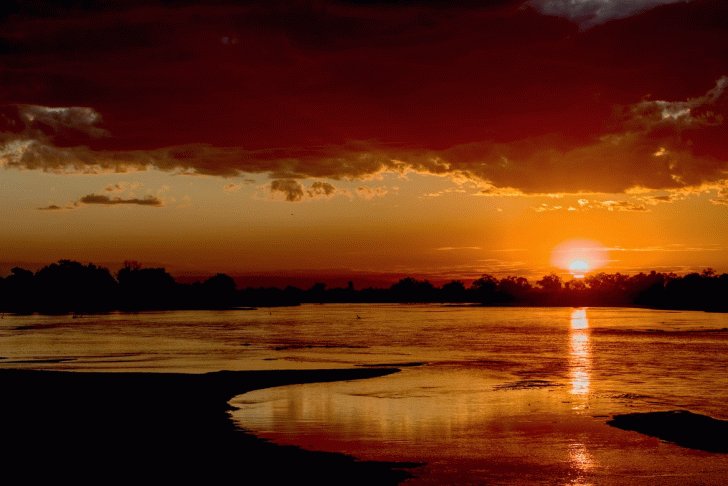 Photo by Ian McGrory | unsplash.com
In South Africa, namely in Zambia, Luanda National Park covers 15 540 square km or 6 000 square miles. Here we can meet various antelopes, such as kudu, puku, and the largest one called eland. Besides wild creatures, National Park is praised for its wild nature, thus being one of the best places to see sunsets by evening.
Yosemite Valley, US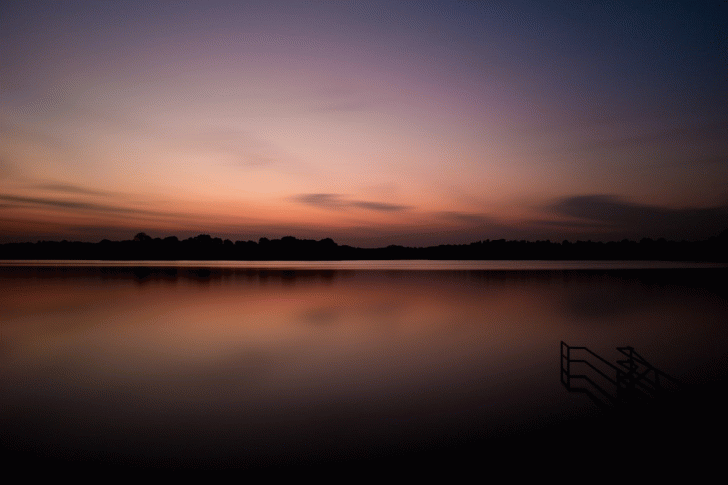 Photo by Michael Frye | michaelfrye.com
Among many beautiful parks in the US, Yosemite Park is known for its mountainous region and valley. Taking its place in UNESCO World Heritage site, it has famous El Capitan, 2 307 m or 3 600 feet long buttress. Also, a U-shaped Yosemite Valley, a nice place to look at relaxing sunsets.
Horseshoe Bend, US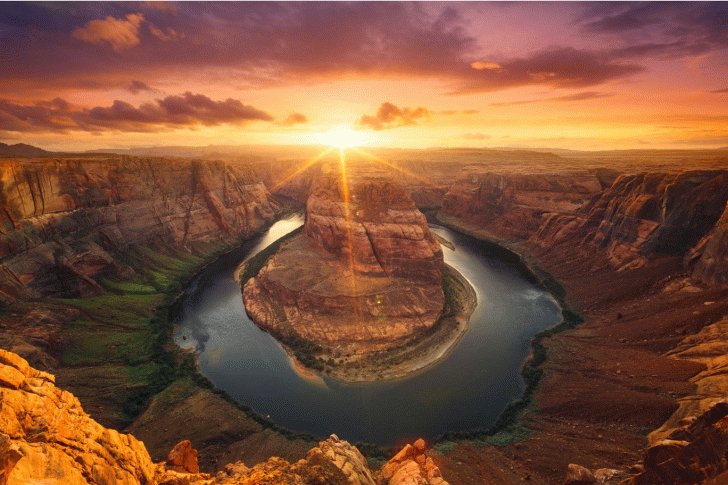 Photo by Julien Grondin | standard.com
Speaking about stunningly beautiful sunsets, we cannot ignore Horseshoe Bend. The sunset times are the most desirable times for photographers and tourists to visit this part of Arizona state. This 270 degree U-shaped natural meander, rounded by the Colorado River, will make you feel easy when standing in front of it and gazing sundown.
Annaberg, Austria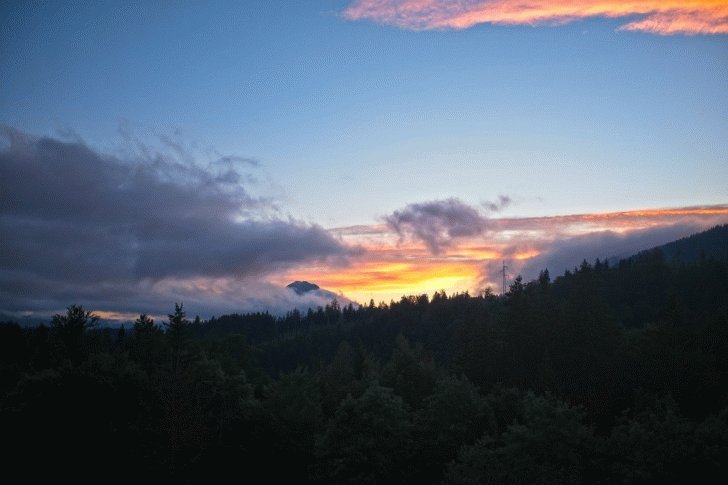 Photo by Christoph Schulz | unsplash.com
Although, being a small town in Lower Austria state, Annaberg is a lovely place. Located near Ötscher mount, winter tourism is the prime source of income. This town is fascinating not only in winter but during other seasons too, especially in spring when everything is green and, in the evening, there are stunningly beautiful sunsets here.
Great Ocean Road, Australia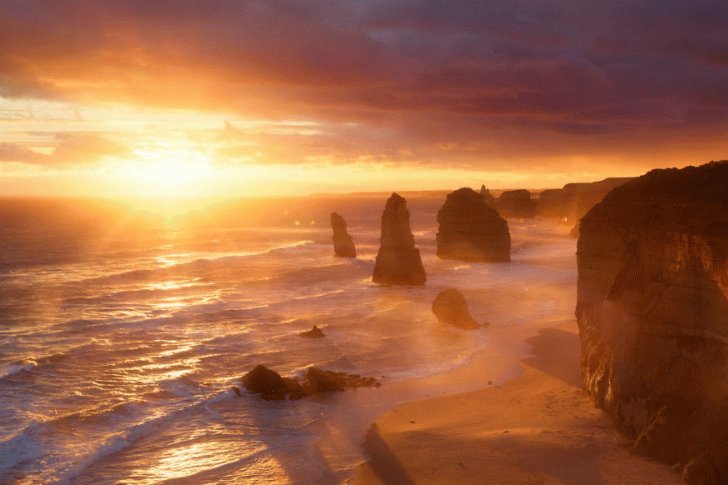 Photo by Julien Grondin | creativeboom.com
Stretched in the southern part of state Victoria, driving on the Great Ocean Road, you can see the stunningly beautiful sight and sunsets in the evening, especially the Twelve Apostles' rocks. These are stack-like rocks into the ocean, and if you are brave enough to get there, sea sound together with the setting sun will have a relaxing effect on you.
Acadia National Park, US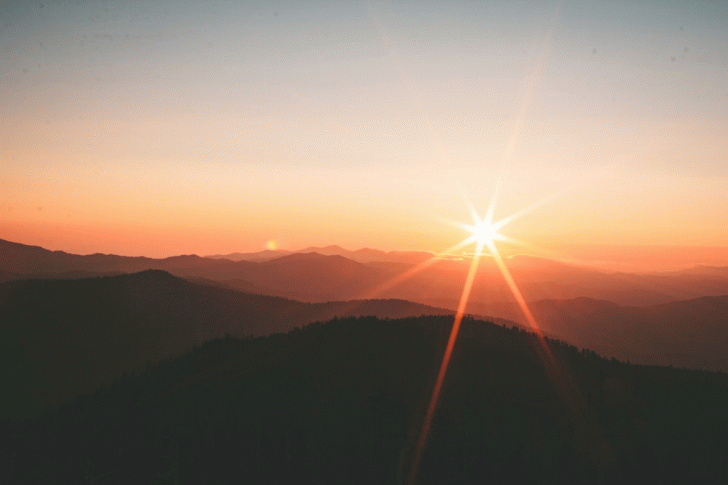 Photo by Ivana Cajina | unsplash.com
Taking 168 square km or 65 square miles, the Acadia National Park attracts visitors with its cliffs and sea sights. This park is the first national park in the eastern US. Some think that sunrise is more beautiful here, but sunsets are spectacular and eye-catching to watch.
Budapest, Hungary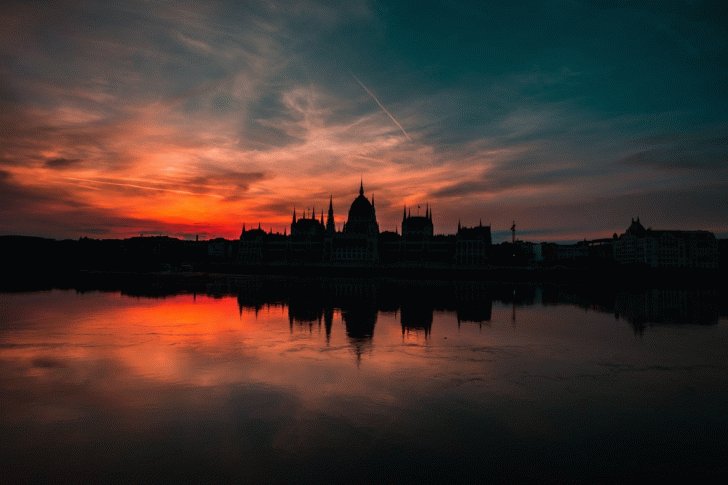 Photo by Benjamin Szabo | unsplash.com
The most popular look is from the highest place of the city called the Elizabeth Lookout Tower. Located on Janos Hill, this tower is 528 meters in height and has a 100-step staircase. Going up to its top, you can enjoy with stunningly beautiful sight - the sun is hiding in the streets of Budapest.
He Giang, Vietnam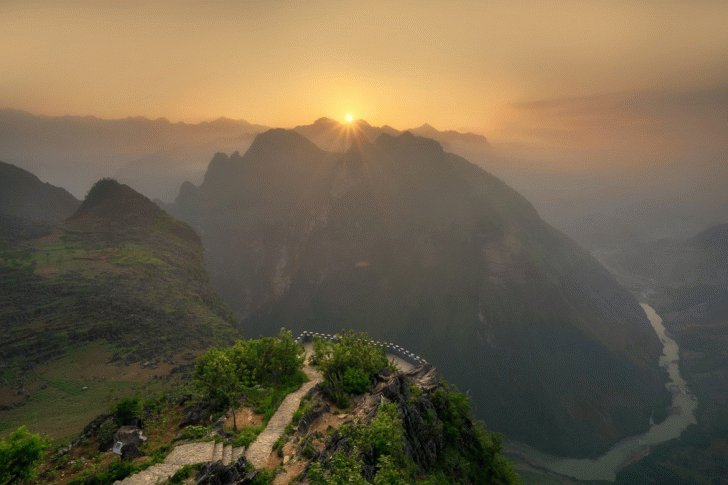 Photo by Hoach Le Dinh | unsplash.com
Located in Northern Vietnam, the province He Giang consists of one big city and several rural areas. Thus, the He Giang province is not so big and inhabited but has fascinating places like forests and magnificent sunsets, as shown in the image.
Mount Pulag, Philippines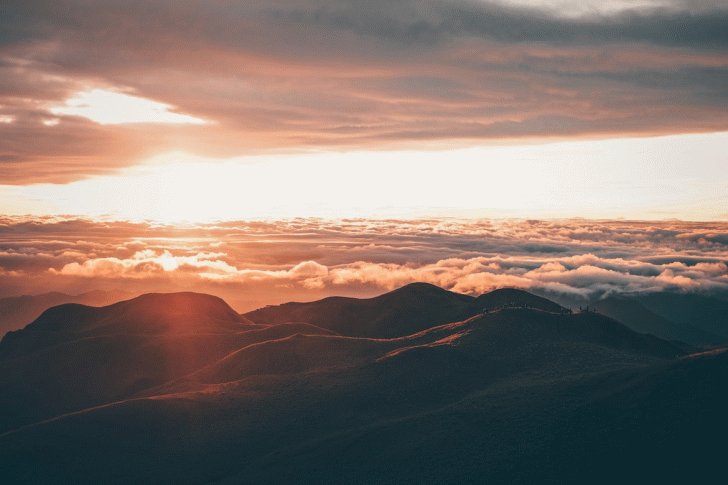 Photo by Jeff Nafura | unsplash.com
As one of the highest mounts in the Philippines, Mount Pulag is nearly 3 000 m or 9 700 miles in height. On the top of the Pulag, it feels like you are on the top of the sky and looking down on clouds. Image yourself standing on that mount and watching how the sun is disappearing among the clouds.
Asilah, Morocco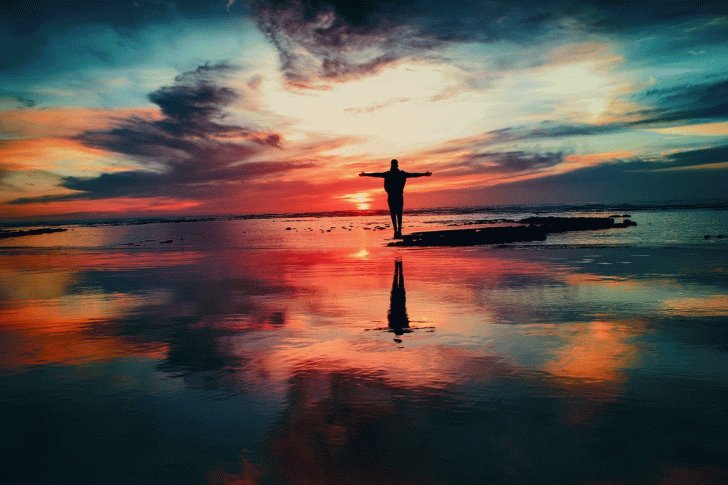 Photo by Mohamed Nohassi | unsplash.com
The Asilah City, located on the northern side of Morocco, righty takes place on our list of stunningly beautiful sunset locations. Famous for street arts and fish markets, the city also has eye-catching sunset sights. The most stunning place to see this is the Atlantic Ocean's beach.
See Also 30 Natural Wonders of the World ➡